Believe it or not, it has been ten years since the first line of Flame Painter's code was written! It was in 2009 when the founder of Escape Motions, Peter Blaškovič, created the original flame algorithm within his 'I am an Artist' experimental project. He believed that "Everyone can be an artist, we just need the tools which become the inspiration for creativity". Today we still follow this vision and are proud to announce that we are about to enter a brand new stage of Flame Painter's story.
Pioneer in procedural art: Flame Painter's very first version in 2009 (top) vs. Flame Painter 4 (bottom).
It is with great pleasure to share with you all, that after long months of development we present Flame Painter 4 - the new game-changing software which allows you to paint and design with real organic brushes. The new version puts an incredibly broad range of creative tools at your fingertips while making adding special effects to your designs a breeze. Flame Painter 4 will feature new Particle Systems, the state-of-the-art technology which allows creating an unlimited spectrum of particle brushes, ranging from classic light effects to structured patterns, textured shapes or even natural painting brushes. Particle systems will open a whole new world of possibilities nowhere to be found in other software. The upcoming version will also bring fresh sets of brushes which will give you the power to customize every parameter via the new Brush Creator panel. Each and every one of the brush presets in Flame Painter is a piece of art and you are the creator invited to play your own game with custom artistic brushes.
New Particle Systems
Particle systems are the foundation of Flame Painter and define the main characteristic and behavior of the individual brushes. Each system consists of an effective set of settings and sliders to help enhance your stroke to perfection. Choose from various particle systems to paint an original piece of artwork, or generate abstract imagery within a design project. A great variety of particle systems is a unique solution nowhere to be found in other software on the market. With this incredibly broad range of organic tools, you are the creator.
There will be six particle systems available:
- Flame, Follow and Ribbon are systems well-known from the previous Flame Painter version;
- Liner, Elastic and Fuzzy are new systems, which will be released as add-on's available from our website.
New Brushes
Flame Painter's brushes are truly alive; when you paint with the mouse or pressure pen, you can feel the natural behavior of each brush shape.
While Flame Painter 4 will come with a default set of brushes, they only scratch the surface of what's possible. If you would like to use ready-made brushes, just easily browse hundreds of free presets in the online Brush library and choose the ones which fit your need. The particle brushes in Flame Painter can be divided into three categories:

• Draw & Paint Brushes – Perfect for the fundamentals of your painting, the standard drawing, and painting tools are always on hand for your creative workflow.

• Graphic Brushes – Within only a few brushstrokes, you can achieve interesting effects for posters, backgrounds or create original patterns on your graphic designs.
• Photo Effect Brushes – Varied effects, ranging from lightning strikes to fire, smoke, bokeh, and sparkles are ready to enhance your next digital masterpiece. Take advantage of what's possible only in the digital world - paint your art with another painting or photograph.

Never mind the basic colors. You can use included gradients, create your own color transitions from the scratch, or generate one from an image. You can even import a colored texture and use it as a particle brush. In the end, you can share your brush with other users and make the world a more creative place. Brushes will be added with a tag so anyone in need for a perfect graphic brush will search within the respective brush library.

If you love to experiment and have extra fun with brushes, with included Brush Creator you can create an unlimited number of brush styles by adjusting various options and parameters. For example, add a little noisiness. Modify jitter, add softness, chaos or other known and unknown parameters from the previous Flame Painter versions. Set any of the parameters to adjust to pressure sensitivity of your pen. This all is a great way to create amazing effects and add instant sparkle, depth, and richness to your paintings, designs or photographs.

Unlimited Brush Customization
We've simplified the Properties panel where some of the most useful settings remain, like the brush size, blending mode or opacity. The rest of the settings have been moved to a new fully-equipped Brush Creator panel.
Here you can choose your Particle System, where you set the brush behavior and Shape, which includes visual settings concerning the stroke texture, pattern, and opacity. Brushes have three different stroke types available:

•  Fill - the typical shape already known from the older versions.
•  Lines - this is a liner brush from Flame Painter 3, extended by the possibility of the setting the stroke width, length and creating different sequences.
•  Dotted Line - which enables you to create brushes with different image shapes.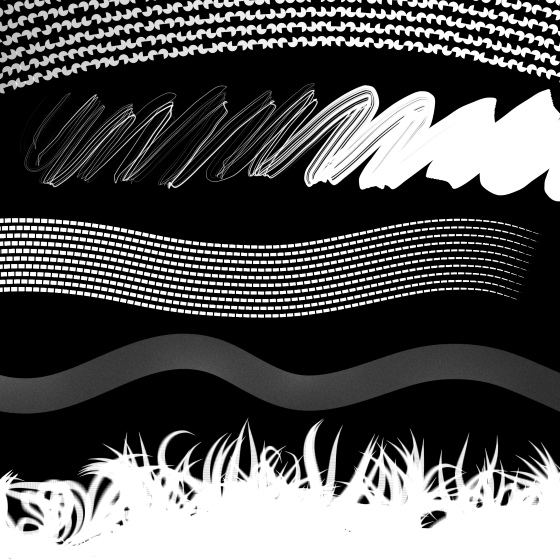 Moreover, every stroke type can have its own texture which defines the opacity of the shape. Instead of spending hours searching for the perfect brush online, save your precious time and easily create your brush design with Flame Painter. The range of possibilities, how the brush can look and behave is really limitless.

With so many options and complex tools, Flame Painter 4 remains simple and easy to use with the ability to produce top-notch effects. "I am proud we created such a powerful tool. This new version of Flame Painter has surpassed even our own expectations. It is a must-have tool for all professional CG artists, graphic designers, and photographers but also for anyone thinking of dipping their toes into the world of digital art for the first time." says Peter Blaškovič. 
Get ready to unlock your creative potential, Flame Painter 4 will be here soon to change your artistic life.
Stay tuned for another feature announcement coming next week! By the time let us know in the comments how excited you are to play with the new version, we'll pick one lucky winner who'll get a free copy of Flame Painter 4! :)
Your Escape Motions Team