Hi Everbody,
i know some of you badly want Rebelle on the iPad ;-).
Until, this is happens, try "EasyCanvas".
"EasyCanvas" is an App like Astropad or DuetDisplay.
it works on PC and Macs, but i can only tell you how it
works on PC. You get "EasyCanvas" on the Appstore.
It will cost you 12,99 €, its a one buy fee.
It has "NO" Subscription Model ;-).
The beauty of this is ;-)
You have your (big) PC Display too, your
Mouse and PC Keyboard works also and so
your Shortcut Keys. And the best thing last,
you Paint with the Apple Pencil in Rebelle.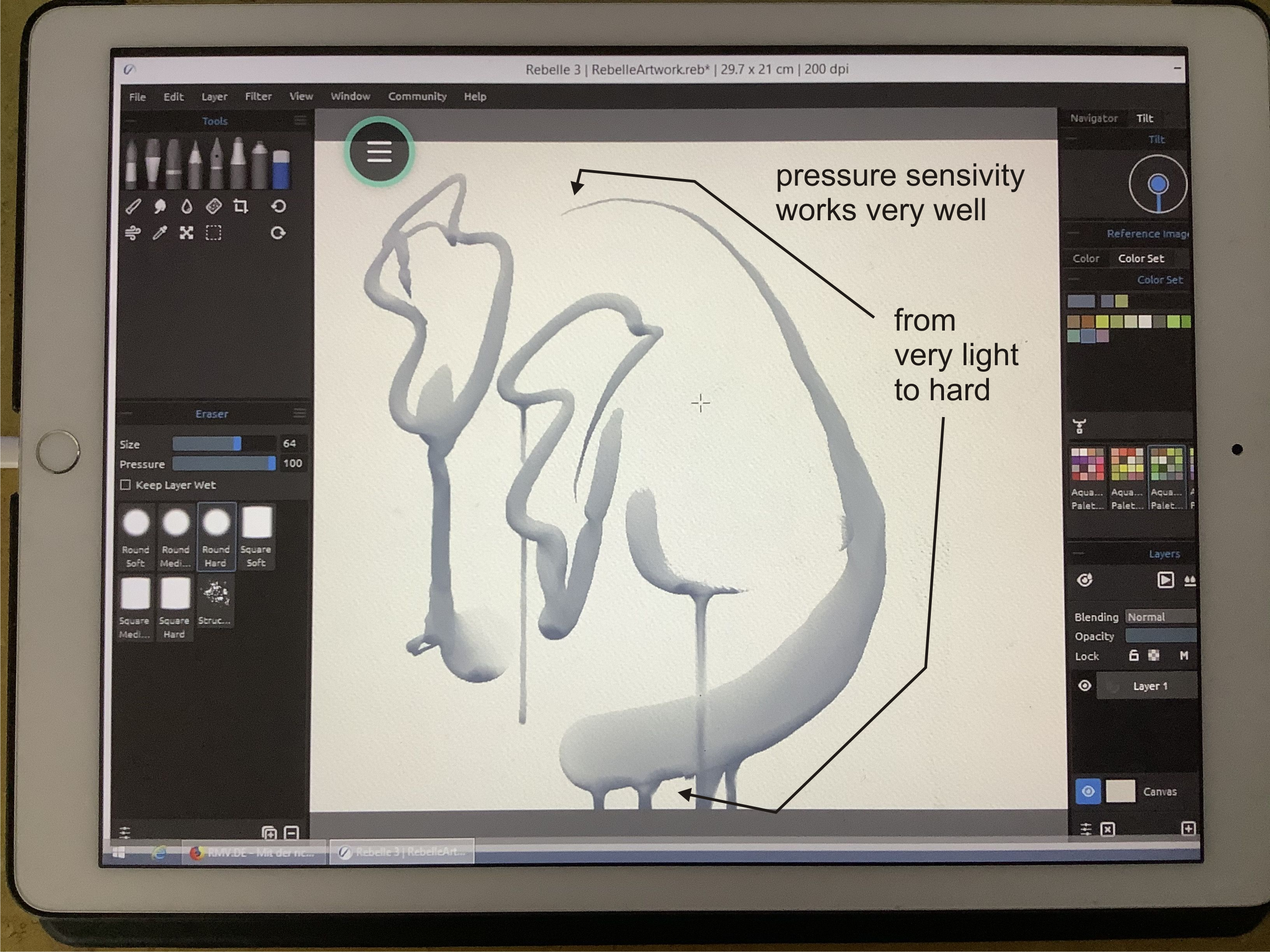 Rebelle via EasyCanvas on iPad Pro 2017

My tech Specs are:
Middle power gaming PC with Window 8.1
CPU: Intel Xeon CPU E3-1230 V3, 4 Cores, 3.30 GHz
Graphics: NVIDIA GeForce GTX 770
iPad Pro 2017 with an 12,5 inch Display and Apple Pencil 1
My iPad and my PC are connected with a long USB to
Lightning Cable, it is 200 cm (78 inch) long.
There are no remarkeable Lags.
How its gonna work ?
Beside the "EasyCanvas" iPad App you need also
an Program on your PC, which you can Download
for free from the EasyCanvas Website.
Here is the Link:
http://www.easynlight.com/en/easycanvas/

To paint on your iPad in Rebelle the following
Steps are needed.
- Install the EasyCanvas PC Program on your PC.
- Connect your PC to the Internet.
Only the PC need an Internet connection.
- Start the Program: "ezcvs_agent.exe" on your PC.
- Start the "EasyCanvas" App on your iPad.
- Connect your Lightning to USB Cable to your
iPad Lightning Connection and the USB-Side
to your PC.
- Now, you should see your PC Desktop on your iPad.
- Start Rebelle.
- In Rebelle go to Preferences / Tablet /
set your Tablet Connection to WinTab Services.
You have to do this, so the pressur sensivity
of your Apple Pencil will work in Rebelle.
- Now you can Paint in Rebelle with your iPad.
- One Minor Note, you may have to pair your Pencil
to your iPad. If so then unplug the Lightning Cable
plugin your Pencil, pair it, and than replug the
Lightning Cable.
EasyCanvas works with other Paintprograms too.
If pressure sensivity not work. Then try different
Tablet Settings in your Paint Program.
Pressure senvity in Rebelle works with "WinTab Services"
in ClipStudio Paint you have to set it to "Tablet-PC"
Another Note. If you paint with the Apple Pencil,
touch gestures to zoom or turn the Canvas are not
directly possible, only over EasyCanvas Menü.
But you can always zoom with your PC Mouse
and your PC Keyboard works too.
Hope you find this Tipp usefull, see you ;-)
gottfried