A new Rebelle 3 update is ready for your creativity! The 3.2.5 version offers a few useful features that will improve user experience with the Demo version and accelerometer abilities on some tablets. What is more, it also brings a lot of crucial user-reported bug fixes and stability improvements.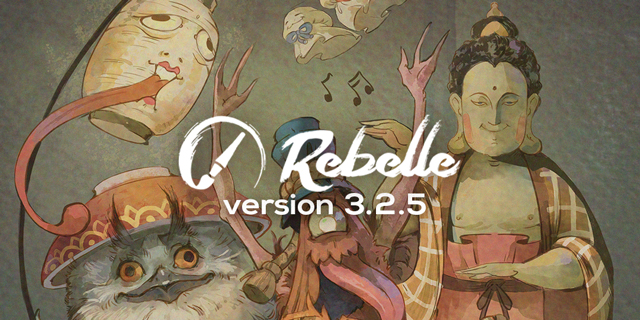 Features and Changes in Rebelle 3.2.5
1. Save .reb projects in the Demo version
From now on, it is possible to save your artworks in the .reb file format from the Demo version. If you decide to go on and purchase Rebelle 3, you will be able to open these .reb files in the full version. Thus your Demo artworks will not be lost.

2. Accelerometer rotation by 90 degrees added
Some tablets have a different default tablet orientation than others. This may result in an incorrect orientation of the tilt in Rebelle when using the tablet's accelerometer, usually off by 90 degrees. The workaround is to rotate the tilt in Rebelle by the same value - this option has been added to the Tilt panel menu:
In case Rebelle rotates the canvas incorrectly on your tablet, try to rotate the tilt using this option.
3. Disable PSD compression
Some Rebelle users reported problems when opening a PSD file saved in Rebelle 3 in third party applications. The issue started to appear when we implemented a compression for PSD files to the software. This compression seems not to be supported by some of the digital software, therefore it is now possible to disable the compression completely in Rebelle's Preferences.
Bugs fixed to Rebelle 3.2.5
Fixed lag on high-resolution displays
Lagging behavior that had been reported from many Rebelle artists was causing us little office nightmares. We were unable to reproduce the issue and the systems it occurred on did not have anything in common. We had been digging deeper and deeper into the code over the last few months and finally managed to find what could be wrong. The Rebelle 3.2.5 should now be as smooth as possible. If you experienced lag, sluggishness, or slow-down from Rebelle 3.1.6 update, this version should again work for you as expected.
Other bug fixes include:
- Fixed color mixing via the "X" shortcut when a grid is active on the color palette;
- Fixed reference image transformation when using multitouch gestures;
- Fixed crash when a new file was created after the unconfirmed image import;
- Fixed: When rotating or flipping the canvas, it also influences the active brush rotation;
- Fixed: Selection remains a selection after re-opening a saved .reb file;
- Fixed: Switching between Transform and Canvas Size tools works correctly - sometimes when switched from Transform to Canvas Size tool and vice versa, they got stuck and it was not possible to cancel either one of them;
- Fixed: Text of the memory limits in Preferences are displayed correctly now;
- Other minor bug fixes.
Go ahead and download the latest update from your 
Community profile
. You can access the download links to the update also from within Rebelle 3, just go to the menu 
Help > Update to 3.2.5
. This update is free for all Rebelle 3 users.
Happy painting!
Escape Motions Team