Paint with the real watercolors and acrylics
WHAT

is Rebelle?

Rebelle is a one-of-a-kind paint program that lets you create realistic watercolor, acrylic and dry media artwork, using real-world color blending, wet diffusion and drying.
WHY

was it created?

The unique watercolor simulation was created by artist Peter Blaskovic as one of his experimental drawing projects. The initial vision was to create a paint software with the most natural painting tools.
WHO

is it for?

Rebelle is designed for CG artists as well as for traditional painters who want to explore and broaden their artistic repertoire, using the latest ground-breaking digital painting technology.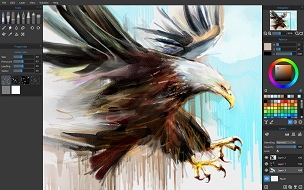 Creative Tools
Dive in to the vivid colors of Rebelle, follow your art spirit and let the creative current carry you away.
Realistic Techniques
Enjoy the real watercolor, acrylics, inks and pastels and broaden your horizons with the new digital art techniques.
Realistic Brushes
Real world simulation of paint flow
Wet tools: Watercolor, Acrylic & Ink Pen
Dry tools: Pencil, Pastel, Marker, Eraser

Blend and Smear tools

Wet, dry and blow the wet painting

Tilt the canvas to get flow effects

Pen pressure support
Layers & Colors
Unique color mixing

Unlimited layers

10 paper and canvas presets

23 Photoshop blending modes

HSL & RGB color palettes

Set of user predefined colors

Image color tracing
Intuitive Interface
Intuitive customizable interface

Custom keyboard shortcuts

Support for Retina displays

Fullscreen mode

Windows & Mac OS (32/64 bit)
Files
Drag & Drop image from folder or web

Import and export with alpha channel

PNG, JPG, TIF, BMP and REB files

Iterative Save
Image file thumbnails


Unconditional 30-Day money-back guarantee
If for any reason you are not satisfied with Rebelle, you can obtain a full refund within 30 days.

We offer a discount to schools and educational institutions.



View some of the wonderful pieces of artwork.
"I have a number of paint programs, Rebelle beats all of those. Hands down. I LOVE it."
Patricia Godfrey
"The dispersion effect, interaction with paper, blending, smearing, tilt and blowing are absolutely wonderful! The stunning organic feel of the paint once its down is just brilliant... second to none. You are certainly ushering in a brave new world of painting software."
Stavros Stavropoulos
"We just bought Rebelle because there is no other paint app that can do real watercolor – great tool!"
Christian Steinar
"It is magnificent software, which opens new doors to new levels of creativity."
Suawek Kolakowski
"It's amazing! the physics are really spot on. Aside from its standalone quality, for me this will eliminate endless hunting online for quality watercolour strokes / resources / elements."
Francis Aeonic
"Super ingenious masterpiece!"
Iulia Khestanova
"I like very much the intuitive interface of Rebelle and your watercolor brush is the best I have seen until now."
Martial Fauteux
"Firstly bravo! I have used nearly every PC art app of any worth and you have beaten them all. This is a different league."
Guyfunguy
"I bought your app because it is innovative - surprising in its complexity and playfulness, exact in its textural accomplishments. Thanks for an intriguing, well-developed creative product!"
Alia Thabit
"I am amazed and very excited by the prospect of this tool. After playing with Rebelle for far too many hours I have decided that I love the program! It is easily the most realistic painting simulation I've ever seen."
Daniel Innes
"Sheer genius!!!"
David Mcguire
"I truly see it has immense potential & is a wonderful tool for all artistic levels. And it is so incredibly intuitive, I practically knew how to use it right away with its tiny learning curve. It's my new go to painting app."
Jeanne Corbeil
"It looks the best watercolour app I have ever seen! I use other painting apps but from what I've seen so far Rebelle beats all of them as far as emulating traditional watercolour. I'm going to love this app! :-)"
Heather Adams
Copyright © 2009-2016 Escape Motions, s.r.o. All Rights Reserved.