Today we are releasing a new update to Rebelle 3. This version features fixes to some unfriendly bugs which could appear during your work in previous Rebelle versions and also brings a few useful changes. The update is available for download from your Community profile and is free for all Rebelle 3 users.
What's changed and fixed in Rebelle 3.1.5:
• Color Filters - We have rewritten the code for all color filters so now it's easier to get results you expect. Filters now look a lot more natural and pleasant. 
• Unpleasant bug with Grid in Color panel - Some users experienced a strange behavior when a Grid appeared out of nowhere on the color palette and switched with every click which made it impossible to choose a color. This was caused by an accidental internal touch event that activated "scroll" on the palette (which was another way of turning the grid on). We decided to solve this issue by adding a "Lock" option in the Color panel menu - this option will lock your palette and thus prevent it from any unwanted changes.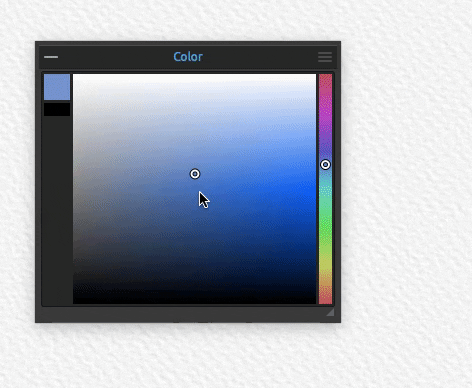 • Rough time with tool-tips - We were looking for the best place to show tooltips in Rebelle. In the previous version, we moved them to the top of each tool. But we found out that if you wanted to click on the tool above you had to wait for the tooltip to disappear which could take a few precious milliseconds of your creative time. In version 3.1.5 the tooltips still appear at the top of each tool but disappear immediately. If you don't want any tooltips, you can turn them off completely in Preferences > General.
• Memory warning - During a long painting session, you could see the warning about the limited number of undo steps numerous times on your canvas:
We believe it is important to warn you about this kind of limitations, but we also understand this may interrupt your painting process. So we decided to include a checkbox in Preferences with which you can turn off the warning for good. The checkbox is available in Preferences > General > Memory.
• Touch actions - We've added the possibility to turn off single-touch and multi-touch actions separately. This can be quite useful when you want to use a touch of your finger to blend your painting but don't want an accidental tap with the second finger or your palm to trigger moving or zooming of the canvas. Or you don't need a single-touch at all and just want to use two fingers for canvas transformations.
Other Changes:

• Support for fonts for Chinese, Japanese and Korean language added. 
• Import of more asset files at once added. 
• Drag & drop of multiple assets at once added - Add papers, color sets, and brushes.
• 'Invert pen tilt' option added - when Wacom devices use Ink, the tilt may go the opposite direction. 
Other Fixes:
• Color Palette: RGB's Green value was larger by 1 than in the System color palette.
• Color Palette: Sliders in Circle mode now display correct HSV values.
• New Artwork Dialog: Lock Ratio icon now resizes correctly.
• 'Snap to Canvas' option now works correctly for 'Resize Image/Canvas'.
• UI scaling fixed for New Artwork window, Demo window and Wacom/Ink dialog.
• Other minor bug fixes.
To get the latest update, log in to your Community profile and go to My Profile > Purchases. Definitely let us know how you like working with the update via Rebelle's menu Help > Send Feeback.

Happy painting!
Your Escape Motions Team
---
Cover Image by Hal - Rebelle Featured Artist | escapemotions.com/featured-artists/hal