Today we're releasing a new update to Rebelle 3 - version 3.1.8 - containing four important bug fixes that will improve your creative workflow. This update is available for download from your Community profile and is free for all Rebelle 3 users.
What's fixed in Rebelle 3.1.8:
Bug with pen rotation - Sometimes the pen rotation mistakenly changed with canvas rotation in older versions. This resulted in different outcomes when different rotation was set in the Navigator panel, e.g. horizontal stroke painted when the canvas was not rotated looked different than when the canvas was rotated at 90 degrees.
Pixelation / Artifacts - This troublesome issue has been reported by a few artists: when painting and switching between layers, a strange pixelation appeared. Unfortunately, it was also saved in the final work. The only way of removing it from the image was to repaint the affected areas. See the example of the pixelation below: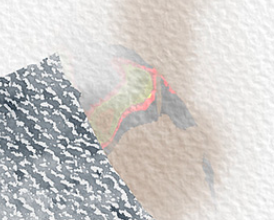 Color switch after saving - Another strange bug that might appear in some cases was a change of colors in the image after re-opening it in Rebelle. All is fixed in the latest update.

A diacritic - The diacritic in layer names was not saved properly from time to time. After reopening the file in Rebelle, the layers could have odd symbols instead of the diacritical marks.
To get the latest 3.1.8 update, log in to your Community profile and go to My Profile > Purchases. Definitely let us know how you like working with the update via Rebelle's menu Help > Send Feeback.

Happy painting!
Your Escape Motions Team

—–
NOTE: There might still be issues with Rebelle where you experience unusual lag on macOS. This was first introduced in the 3.1.6 version. The workaround is to use a 3.1.5 update where the painting process is seamless. We believe the issue behind this is in the Qt-platform itself (which we use for building Rebelle). Right now, there is no workaround for our development team to fix this, so we're waiting for the solution from Qt creators. Please excuse this inconvenience.
Artwork "The Hunter" by Simon Lovell - Rebelle Featured Artists | escapemotions.com/featured-artists/simon-lovell